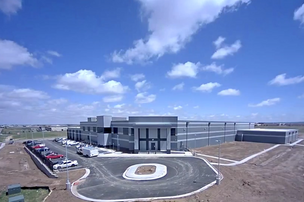 Denver, CO – June 9, 2014 – Nuvalo principal Manon Buettner journeyed to Denver last week for the grand opening gala of ViaWest's Compark data center, its fifth in the Denver area. This $208 million greenfield build, located in Englewood, is a 210,000-square-foot facility with 140,000 square feet of raised floor space. The space and power will turn up in phases in coordination with customer demand.
ViaWest's Chief Data Center Officer, Dave Leonard, said they will pursue Uptime Institute Tier IV design certification, similar to their recent Lone Mountain Las Vegas data center, the first Tier IV design-certified multi-tenant data center in North America. Tier IV direction requires a physical separation of electrical and other critical infrastructure, which is not surprisingly a much larger investment in resources and capital.
The facility will also be marked by an anticipated 1.2 Power Use Effectiveness (PUE) rating, one of the lowest in the industry. PUE ratings demonstrate highly efficient operations across power, cooling and other data center systems.
Denver continues to be a hot market for firms seeking data center infrastructure in a low-risk geography to support production and disaster recovery environments. ViaWest's two predominant Denver-based competitors, Fortrust and Latisys, will now be competing against colocation power densities of approximately 20kW to 37kW per rack. A far cry from a few years back when companies were restricted by most operators to 5kW per rack, and still most stop at 10kW.
ViaWest further differentiates themselves by offering data center infrastructure services and hybrid environments consisting of cloud computing, wholesale and retail colocation, managed services and compliance solutions.
Check out their timelapse video and read more at:
http://www.bizjournals.com/denver/blog/boosters_bits/2014/06/viawest-opens-its-latest-denver-area-data-center.html